Transforming Kids Room into Magical Wonderlands
Elegant Aesthetics

Details are crafted to create a timeless, whimsical statement piece households love

Inspired Play

Little minds get lost in hours of open-ended, developmentally appropriate creative play

Timeless Design

Collapse proof pinewood poles support a rich & durable cotton canopy to stand the test of time
Collapse Proof & Easy to Assemble Design
The Teekies play tent boasts a collapse-proof, sustainable and high quality New Zealand pinewood timber frame that connects together via PVC connectors to form a firm, yet flexible design. 
The frame and canopy were designed to be flexible with pushes, pulls, tugs and tantrums 🫢. A Little Teekies resembles the durability of a modern bridge which is designed to flex during an earthquake (aka childhood tornado), yet still stay standing!  
Where possible, our aim was to reduce plastic use while maintaining frame integrity, flexibility and longevity of the play tent so it can be enjoyed for many years and siblings to come.
With zero handyman skills or tools required, this is an easy, kid safe set up in under 10 minutes.


Shop Teekies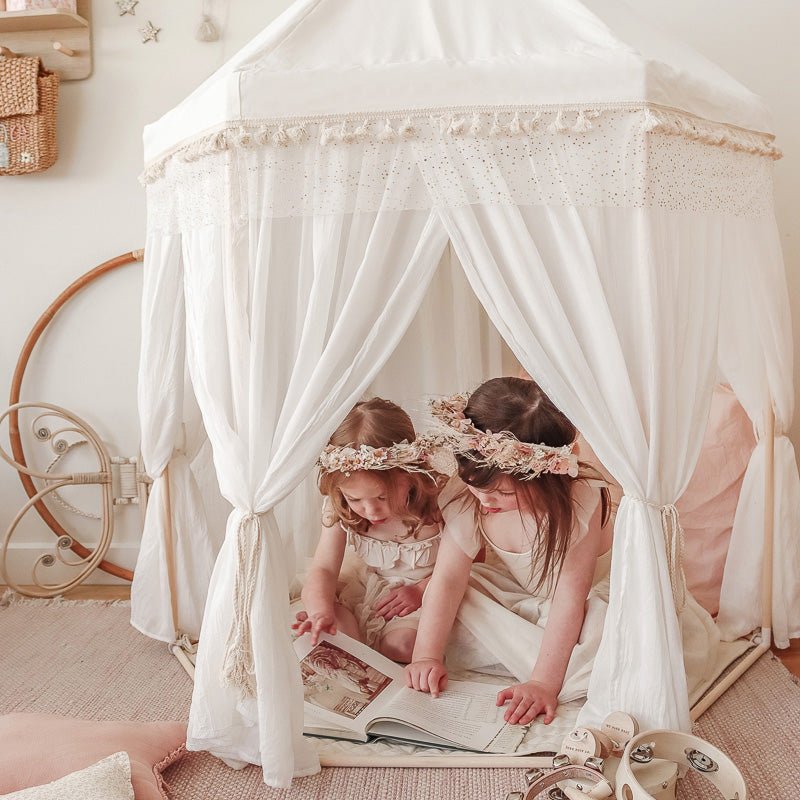 Décor Delight
The quality and detailed aesthetics truly capture the essence of a magical playroom feature to stand the test of time. The use of timber introduces a lovely Scandinavian feel whilst the glittery gold star tulle and tassel valance, draping hand-plaited ties and floaty curtains provide a pop of luxury for a modern play space that delights. 
A 100% cotton quilted play mat nestles inside and fastens with ties to the frame preventing mat movement and toddler trips. 
The luscious earthy & neutral tones (with a touch of sparkle) compliments your existing decor or can truly set the mood for a whole new design! Of course, that choice is entirely yours!  
The best part is a Little Teekies tucks neatly into a bedroom corner, or can demand attention as the centre piece to a play space. It even suits your living space for direct parental observation.
Shop Teekies
Inspire Imaginative Play
Cubby house lovers - eat your heart out! This is a true childhood hideaway that doesn't rely on sheets, blankets and towels being thrown over couches and chairs! It's a perfect addition to playrooms as it truly inspires magical childhood play that you'll talk about for years to come.
Solo play. Play with friends. Story time with mum and dad. The play tent size is flexible enough to include other play elements for all their imaginary world building activities. You will love spending time with your little one in this cozy, warm and inviting space. 
When will your little one pull back the floaty curtains to a magical world of wonder and childhood delight?




Shop Teekies
Style and Play is Here!
An aesthetically pleasing statement piece, without compromising kids play
SHOP PLAY TENTS

Discover the play tent that little people everywhere are falling in love with

Step Inside

INSPIRATION

The most beautiful children's rooms and inspired play

Discover now

OUR STORY

Once upon a time there was a mum determined to redesign the iconic teepee

Read More