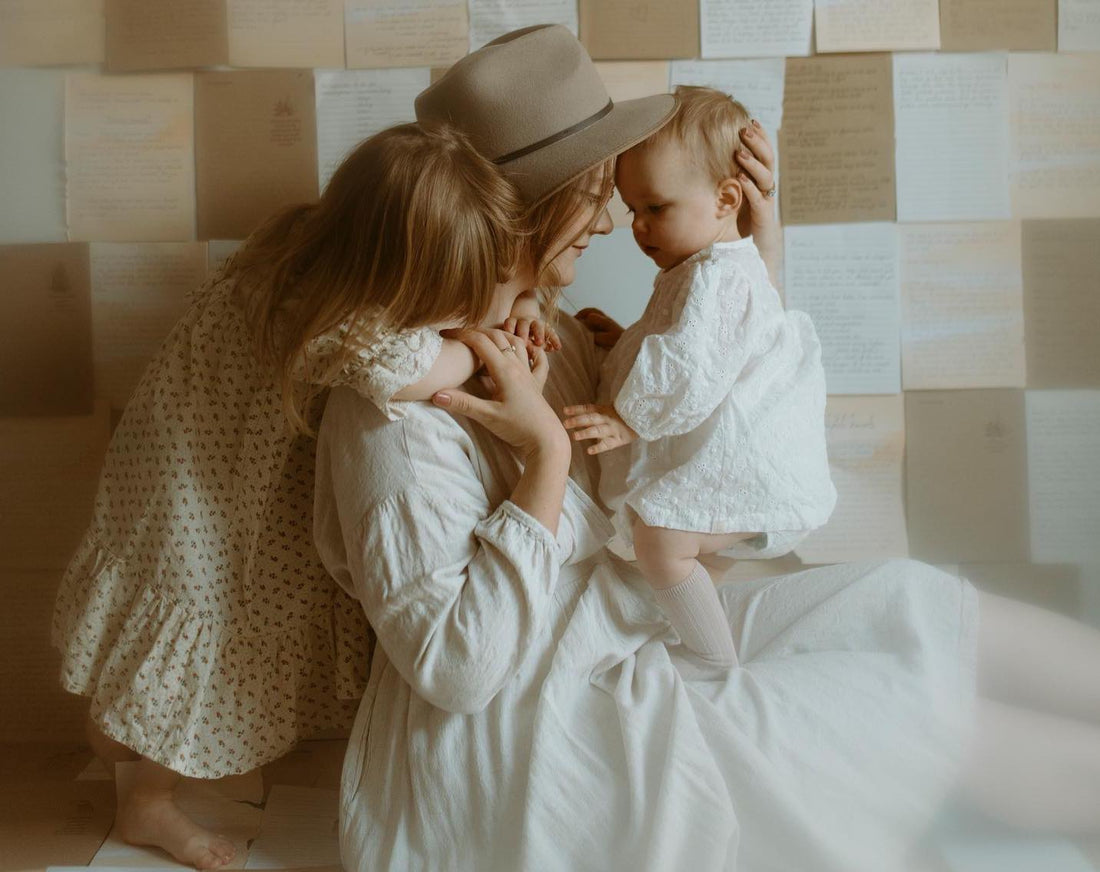 Designing a whimsical girls room with Jo Womack
Meet Jo, the artist behind Dear Kindred. She is a creative at heart and mother to two beautiful girls Ayla Grace and Macy River. She devotes her time and creativity to developing her business that's purpose is fuelled by love. 
In this Q&A Jo welcomes us into the whimsical room she's created for her girls, and shares her advice for creating a stylish, nurturing and practical space for children at home.
What's your philosophy when it comes to decorating in the home?
Our philosophy is first and foremost to create a space that feels warm and inviting. We often keep to soft tones and neutrals as this reflects our timeless style and is then easy to add to for a bit of change down the track.
The majority of items we have used in our home have been sourced second hand or from carefully selected small business we love and adore. We're rather minimal in our approach to decorating so when we find something we simply cannot go without, these items remain with us for the long hall, they are well loved, timeless, and often full of character.
And the inspiration behind Ayla's room? How would you describe the look and feel? 

We do our best to create fun and magical spaces in our girls rooms because after all isn't that what childhood is all about?! Ayla's room is very much a mix of beautiful items we sourced from thrift stores or created ourselves along with a few other store bought pieces that we simply pieced together in an aesthetically beautifully way.
We are very limited with space in Ayla's bedroom so chose to decorate the walls and keep to minimal furniture to allow her more space to play. I would describe her room as airy, whimsical and peaceful. It's got lots of windows which keeps it bright and the decor is all very soft and feminine.
We think it is important for items to have a variety of purposes and most of her spaces although perfect for play also exude rest and peace and can be used for restful times also.
Any tips when designing a stylish children's bedroom?
Get creative, don't be afraid to repurpose, keep to neutral palettes so you can add to it and change it easily as your child grows (we all know their interests change on an almost daily basis).

What does the Little Teekies tent signify in the space for you?

This play tent is an important area in her bedroom as it allows Ayla a space that is totally her own. She can read, rest, play in this beautiful space and often retreats to this space when in need of some 'me' time to help regulate her emotions. She also loves to play with her sister in this beautiful space, peek a boo is a favourite pastime.
How do you balance style and practicality with kids in the home?
We do toy rotations so that not all her toys are on display at one time. This helps support our more minimal approach to decorating and helps her to develop better imaginative skills by creating various uses for a single toy. The toys that aren't in use are away in a cupboard to maintain a clean and clutter free space. Our family feels this is largely beneficial in creating a positive environment for all of us to live in.
Here's what Jo has to say about our 
Wonders play tent, the dreamy play tent featured in her pictures above:
The whimsical tent is everything I ever dreamt of for my girls. A bright, magical space that is all their own. It's so easy to put together and incredibly versatile. I love that you have the option to open all sides if you wish and the curtain material is so soft, it's divine! Also super spacious, our family of 4 read books together in there every night and we love it! Can't fault it, it's amazing!