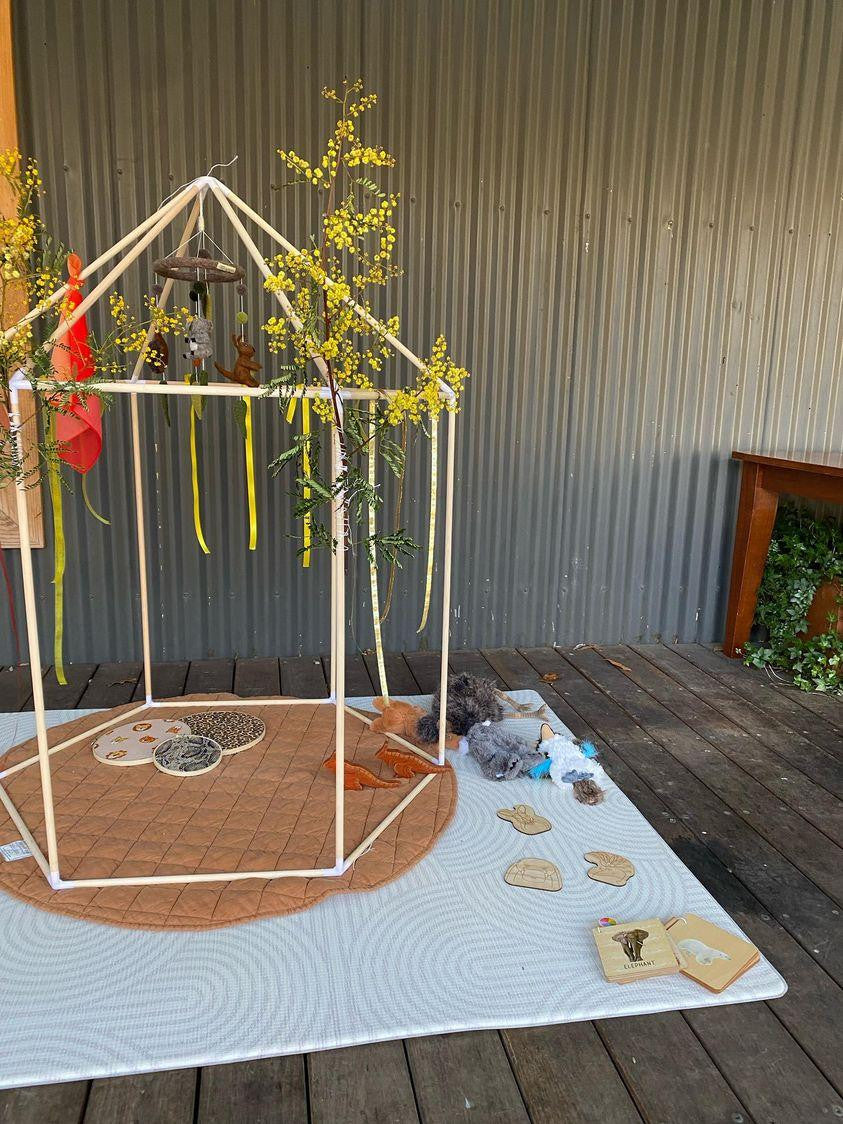 An alternative way to use your Little Teekies with a younger child
Little Teekies recently came across two very knowledgeable ladies running Wholesome Play - a sensory group in the NSW Southern Highlands. Bella, an Early Childhood Educator, and Maurghen, a certified Play Therapist. These ladies found an alternative and most creative way to use the Little Teekies tent frame for their younger community members. 
Wholesome Play is a sensory based play group serving mums with bubs from 0-3 years old. It's a place where they support and facilitate caregivers to connect with their young children. Both Bella and Maurghen are mums themselves and are relishing the way their group is forming a close and supportive community.  
Wholesome Play know exactly how important 'messy play' is for this age group developmentally, and they also know how much young children enjoy it. "We love that we can offer children the opportunity to get messy, and parents the opportunity to let us clean it up. It takes the stress out of messy, developmentally appropriate play and allows the parents to relax, enjoy their children and the company of others. The emphasis during sessions is on open-ended play and resources that foster imagination and inspire. Picking the right resources and play spaces doesn't have to be hard and they encourage parents to pick a handful of quality and versatile pieces for their home environment."
"We also like showing parents they don't need to go out and buy 10 different things; with a little creativity a good resource can (and should) be able to be used again and again, no matter the play schema!" 
"We've recently expanded the playgroup and were looking for a versatile resource that could be used for our 'tummy timers' (0-6m) and our 'sensory explorers (6m-3y). We stumbled across Little Teekies and immediately saw the potential for so many beautiful experiences." 
On their mission to find extra resources for their expanding group, they came across the play tent from Little Teekies and while it wasn't the whole tent that sparked their imagination it was the timber frame itself. 
"It's not just a tent to us! It's a jungle, a birthday castle, a desert cave." 
This is where the Wholesome Play team inspires. If you have a Little Teekies and a younger child at home, they have some great ideas on how to modify the tent easily and quickly for tummy time or other young child fun. 
"For our 'tummy timers' and younger ones, we've been loving using the play tent frame (without the cover) as a giant mobile. It has been so fun to see the tent change every week with our themes. Dried flowers, streamers, balloons, animals... you name it and we've put it on the tent frame. We have said a few times now, if we were first-time mums again we would have just bought this tent instead of all the small mobile holders and stands, which the little ones grow out of so quickly! We love the blank slate of the tent." 
For our 'sensory explorers' and toddlers, we have been using the tent frame to hang resources over our sensory trays. The play tent fits a sensory tray pretty perfectly; the children can still move around the tray but the experience is so enriched by the hanging resources! 
As mums and teachers, we can think of a million other ways we would use the tent at home with our own little ones. Your imagination really is the only limit with a resource like this. (It's currently wrapped in play silks on our veranda for our 11-month-old who is very into watching things flutter in the wind currently). 
And as Wholesome Play grows, you might be wondering what's next? The mums have begun offering party packages here in the Southern Highlands, which I'm sure the play tent will make many an appearance at (imagine a birthday cake in the middle of the tent frame!). 
As things warm up here in a few months we're excited to see all the sensory summer themes come to life with the play tent. We can't wait to send more photos of how we're using it. 
You can find the group and all their inspiring ideas on instagram @wholesomeplay