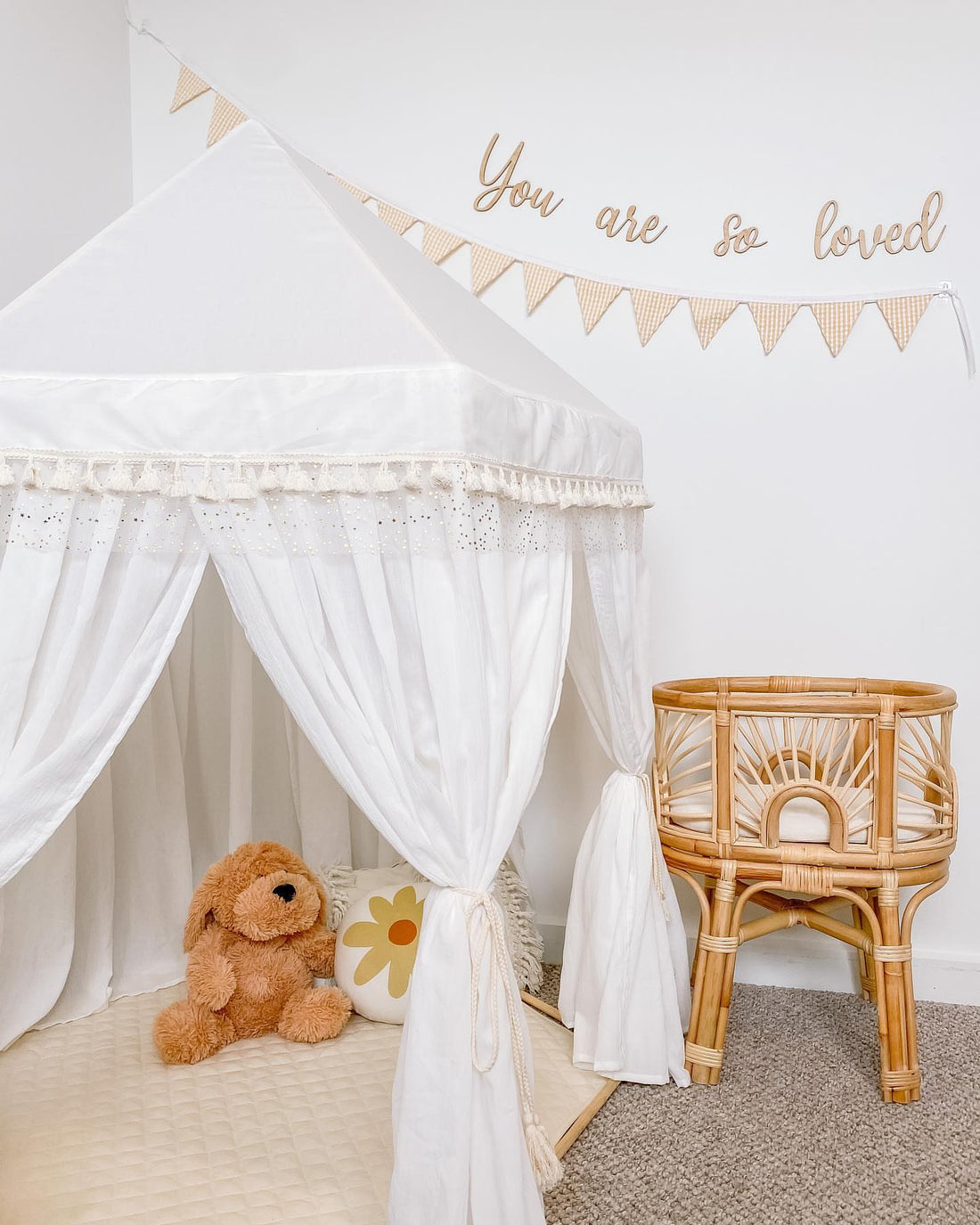 How Play Tents Contribute to Open-Ended Play
Incorporating a play tent for your child's open-ended play is fun and straight forward - I interviewed an Aussie Mum and open-ended play influencer to get the details.  
Let me introduce you to Malinda from @playful.childhood. She's an Aussie mum sharing tips and tricks on how to engage your children in open ended play. We were lucky enough to have Malinda select a Little Teekies Play Tent as a key feature in her children's playroom design and she has been kind enough to share some of her parenting (and teaching) philosophies in supporting children's learning in the early years. Check out her room reveal via instagram https://www.instagram.com/p/CmLmJAYNB-o/
Malinda's philosophy to designing her playroom starts from her years of teaching young children. She was inspired and saw the value in play as learning which developed into the concept of open-ended play. Malinda, wanted her own little ones to enjoy learning and build their curiosity through wonder. Play and the right toy options have been a key piece to this! Before we get to the interview here is a brief rundown on what open ended play is… 
The PBC Expo rightly describe it in this way:
Open-ended play is any kind of play that is free-form and flexible and allows children to direct activities without the imposition of rules and instructions.
In open-ended play, there is no 'right' or 'wrong' way, children are free to make their own decisions and follow their imagination. A ball isn't just a ball, it's a planet or a hot potato or a crystal orb. A block isn't just a block, it's a building, a domino or even a drum."
This means while your child's imagination is at play you can be drinking your coffee hot (not cold!). 
Open-ended play lends itself to play items such as a play tent, because of its limitless creative play options, not just in, but around the tent too. Here are 10 play tent ideas if you're needing them! 
Let's see how Malinda used the Little Teekies Play Tent for her family's open-ended play. 
Malinda, why a play tent for your family? 
I was looking for a larger, more significant piece for our playroom, rather than lots of random pieces. It's easier to build a room around a statement piece then the other way around. The whole space works around the play tent and I love that!
"The play tent has come to signify a bit of magic and wonder for us. We read in it every night before bed so it creates a special bonding time for all of us. We turn the fairy lights on and lay in there together, it's a special little moment we look forward to before bed." 
What other activities do your kids get up to in their play tent? 
Our 1 year old will make his way into the tent at any opportunity, he loves to jump and roll around in there. Our 3 year old loves to have quiet time there and play with dolls or read books. The play tent is both an entertainer and sanctuary! 
Malinda, what are 4 tips for selecting a playroom piece that supports open-ended play?
- Look for something where there is an opportunity for open ended play, 
- Find a piece that children can play with in multiple ways
- Choose something that will grow with the child rather than them growing out of it
- Select a toy that is going to be of quality, it's something that won't break easily. We try to avoid plastic where possible for this reason. We want toys and items that can be passed down to our grandchildren one day.
For more open-ended and play room ideas, please head over to Malinda @playful.childhood on instagram for more! 
Thank you Malinda, for your thoughtful responses today. 
Image Credit: https://www.instagram.com/playful.childhood/ (playful.childhood)