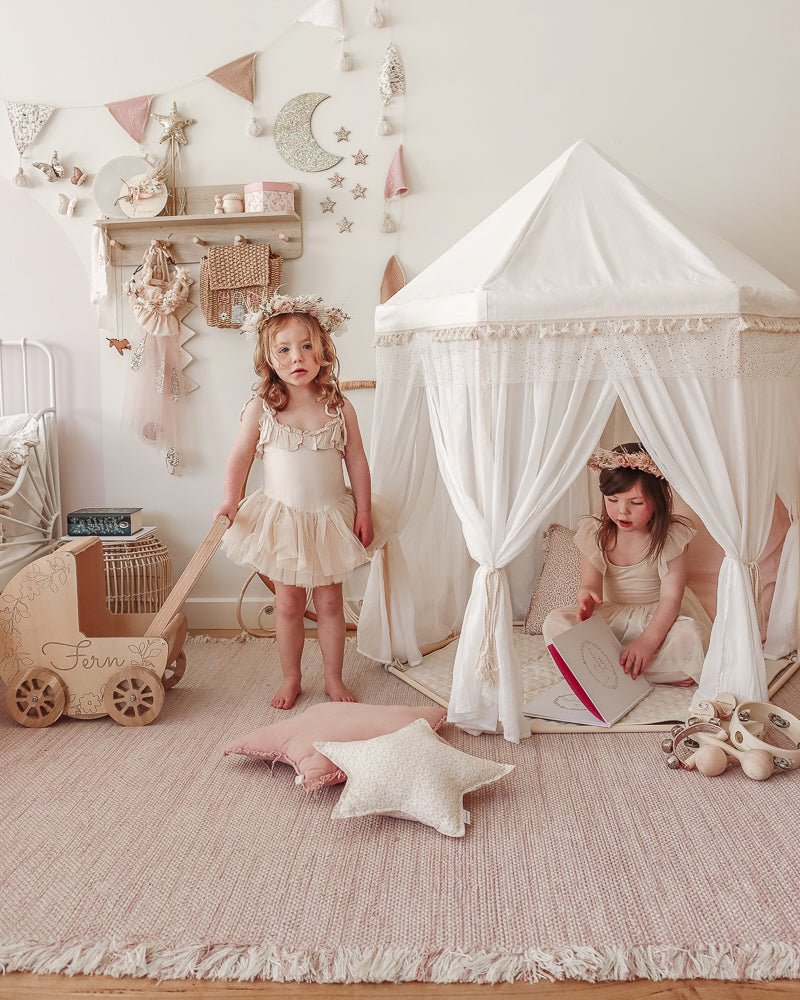 Girls room ideas - modern princess theme with Simone from @dayswithwildflowers
Taking pretty pictures of everyday moments - that's what Simone, the talented woman behind instagram account
@
dayswithwildflowers
has become known for. Mama to wildflowers Cove and Fern, Simone has meticulously turned the girls room into an enchanting space.
Read on to hear the inspiration behind their dreamy resting place, alongside Simone's top tips for bringing a modern princess room to life.
What was the inspiration behind the girls play room?
Whilst it's a necessity that the girls share a room, it was always something i wanted upon having two little girls. Picturing them fantastical storytelling to each other and the sharing of secrets late at night in their own shared space. 
I always wanted their room to have an air of childlike innocence with magical items displayed and filled within the room, to create a warm and inviting place they'd want to retreat to. 
I love that everywhere you look there is subtle reminders of who their room belongs to, and that we can add/change the room as their interests evolve and grow. 
What are your tips for creating a modern princess room?
Involve your child in the product selection process to make it special to them and to ensure their interests are captured within the room. Start with a statement piece that is the bed, wallpaper or a grand light fixture. Most importantly, have fun.
Children's rooms are meant to be fun so throw away the rule book and enjoy the process.  Fuse old and new to create a room full of authenticity and magic. 
When styling and accessorising the room, look for items that cement the theme and concept. Small businesses are great for sourcing these because you can find original, personalised items not found in big department stores. 
How do you balance style and practicality?
The girls have a separate playroom so i like to have a minimal approach to their bedroom. Furniture is kept to a minimum and items lovingly kept in the room are treasured pieces, and those that evoke imagination or quiet time. 
What does the Little Teekies tent signify in the space? 
Endless opportunity for open ended imaginative play! A fairy castle, hideaway or quiet time with books. I love walking past the girls room and hearing htem giggling away together, playing in their tent.